It was not easy, but we're finally back.
We no longer use Tumblr as blog service provider, but a provider who allows us to use a blog by using WordPress.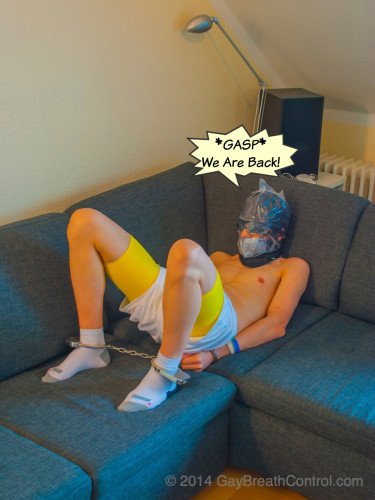 But let me start from the beginning.
What has happened?
On June 13, 2014 my blog was terminated suddenly and without warning by Tumblr.
Several times I've inquired at Tumblr support, why they deleted my account.
Only after I wrote my user ID and email address in multiple blocks in an e-mail, that was not sent from my user email address, I received a reply.
The answer was not very enlightening and certainly not a pleasant news.
To put it briefly, the account remains terminated .
Tumblr do not believe me that I'm already over 18 and allowed to publish my pictures, videos and so on.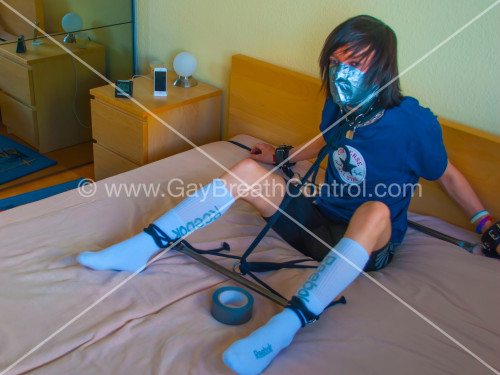 But in fact I think something else. I think they might have a problem with the topic and homosexuality. But I do not know that. I only think it.
Why do I suspect that? They did not give me chance to explain myself further and to prove that I'm over 18 and did not violate the guidelines they reproached me.
However, I made the decision even before the response of the Tumblr support to start my own blog.
Nevertheless, it is a pity that I can not supply you with pictures, videos, and stories that show and tell about me on Tumblr.
On Tumblr you were over 4000 followers and countless followers who had have no Tumblr account, but followed my blog. – Hope most of you have remained loyal to me and GayBreathcontrol.com.
I thank everyone who continues to follow me!
How it goes on?
As I wrote earlier, I have now started the blog on a new provider.
At first the new provider allows me to use the blog by using WordPress.
Although this provider is not free, like Tumblr, but more reliable.
– As a result, a bit will change, because a new technology is based and to cover the new expenses.
But I promise you, GayBreathcontrol.com, as you know it, will remain in its base free of charge for you.
In addition, you will continue to view pictures, videos that shows me and read stories from and about on GayBreathControl.com.
Most of the pictures, videos, stories and so on remain free, as it always was.
At this point nothing will change compared as the time GayBreathControl.com used Tumblr.
Will there once again a German side like EmoSM.de?
Yes, it will be!
Please have a little patience instant.
I'm working on a German translation of GayBreathControl.com.
Soon GayBreathControl.com shall both be in English, and German language.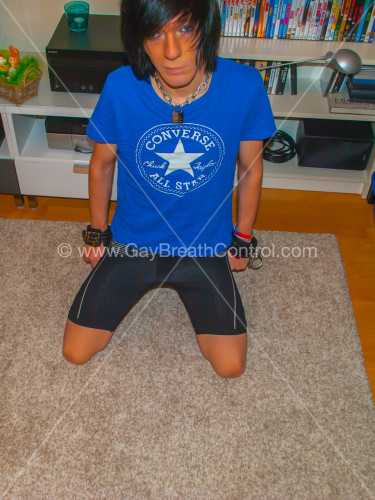 Changes?
In addition to the software that has changed, I will unfortunately have to show a little more advertising.
This advertising will not seem pushy. There will be no pop-ups or pop-under. There will be
no flashing banners.
Here and there I will publish separate articles which show pictures and videos that are part of paid webpages. These photos and video have to purchased from these sellers if you want to see the whole video or the complete series of pictures.
For example, this article: "Boynapped: Master Kane gets his revenge on a twink"
These kind of article I will try but so low to keep as possible.
In my own articles with my own pictures, videos and stories I will post (only if it makes sense) links from which I receive a small commission if you click on the link and purchases there to accessories, clothing or equipment which we used for a session.
Also these links will not being pushy!
Reblogging on Tumblr
Unfortunately also changes that you can reblog on Tumblr my pictures, videos and stories only conditionally.
This means that if you would like to reblog my pictures, videos, stories e.g. on Tumblr, just an image or a part of the story can reblog directly.
How can you do it, I'll explain later.
First, I wanna tell you in advance that you are free to download my free pictures, videos and stories. I authorize you, if you publish a link with a note to my blog and if you let the copyright notice in the pictures to publish them on your blog, e.g. on Tumblr.
How you can share e.g. my pictures
Under each article you will find a note with: "share this".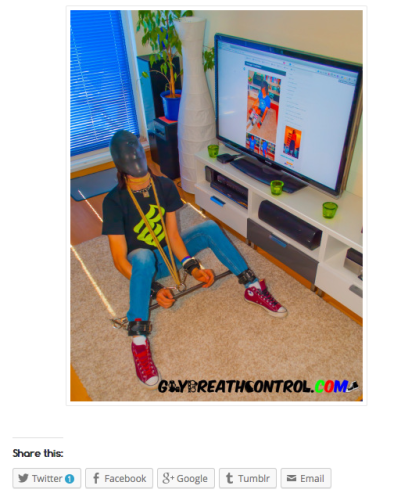 Seek out the social network via which you would like to share an article.
Do you want to share a series of pictures directly via for example Tumblr, then click "Tumblr".
Select the tab "Photo" and there select a picture that you would like publishing on Tumblr.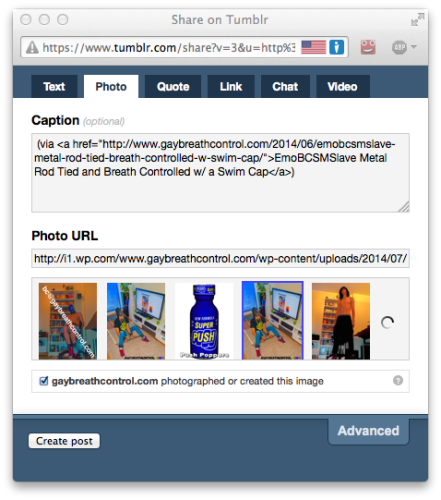 Still write a small text if you want, and click then "Create Post".
That's it!
Do you want to
share all the pictures in a post, so you have to download them first. Under the conditions mentioned above you can upload them on Tumblr.
Apart from that nothing will change on the blog!
From now on it will be go on with pictures, videos and stories from the sessions with my master and myself at GayBreathControl.com.
I hope you stay loyal to me and my master and I thank you for your understanding!
Sorry for the inconvenience again.
Greetings,
EmoBCSMSlave