Kenzie Mitch And Sebastian Kane – Wrapped In Plastic And Wanked
Description:
Poor Kenzie can't fight back when Sebastian arrives to play with him. He's been hanging for a while, but he can't stop his shaved cock from responding when the master plays with it. Sebastian has some surprises in store, namely a plastic wrapping session, binding the boy completely before cutting a hole for his dick and milking it to a messy cum load!
What a nice mummification scene! You also like it?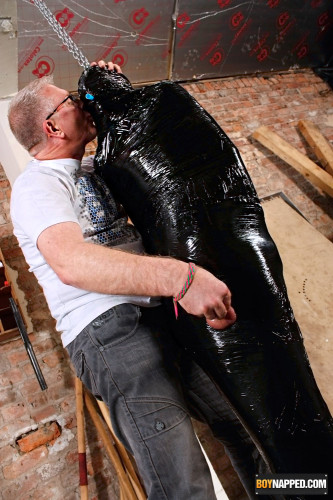 Video 1
Video 2
Video 3
To view at Boynapped.com and buy the full video click here
Picture Set
To view at Boynapped.com and buy the full video click here
About the Boys
First Name: Sebastian
Last Name: Kane
Age: 42
Race: White
Body Type: Average
Pubic Type: Trimmed
Sebastian Kane is the kinky master of the warehouse and loves to abuse young men!
Sebastian Kane is the master when it comes to using and abusing young men and twinky boys in the UK. He has a special warehouse where he likes to take his boys and make them cry out in pain and pleasure, making their cum flood out and splashing them with his by the time they're done! He's one real kinky fucker!
First Name: Kenzie
Last Name: Mitch
Race: White
Hair Type: Brown
Body Type: Slim
Pubic Type: Shaved
Tanned and sexy Kenzie is new to the world of being a twink slave boy!
Although Kenzie is new to being a cock slave twink for guys like Sebastian and his gang of horny dom boys, that doesn't mean he's gonna get any breaks. The boy has a great cock and a hot arse too, and the guys love to use a tight hole and a juicy boys dick for their own entertainment. Check it out as he learns the ropes.