Update:  7 mins video is back!
Let me start with an announcement …
This weekend is a weekend filled with video and photo updates.
Every day between Friday and Sunday a new video or a new series of pictures.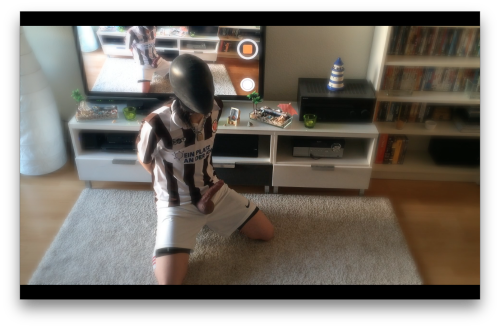 I will start with a video from which you view here on the GayBreathControl.com the 7mins version of the beginning. The end (a 10mins version), in which I will cum without air can be viewed on my Xtube channel.
EmoBCSMSlave in Soccer Gear Breath Play w/ Swim Cap
Emo Breath Play in Soccer Gear w/ Swim Cap powered by XTube
Emo Breath Play in Soccer Gear w/ Swim Cap powered by XTube
Sorry, this is the 15 secs preview…
Some asshole reports my videos at Xtube. Which will be deleted  automatically. After I wrote with the support of Xtube, they are enabled again in most cases.
Once this is done, I post the video!

Ah yes, the cowardly asshole should be contact me in person via email or ask me form. I would like to know about his problems with me! – But I'm sure for that he is probably too cowardly!
Details:
My master has me tied up hogtied and controlls my breath nearly 5 minutes with a swim cap.
Because of my long hair (the swim cap is more closed with it) I wear a black spandex mask over my face.
Jerk Off
As I told you, there is an "addon" for this video on my Xtube amateur channel. In the "addon" video you can watch me cumming and jerking off with one hand w/o air, because I wear my swim cap…
I hope you like what you see!
Don't forget I promised you, there will still be vids of me that are free and not at my JFF amateur profile. You'll find them also at GayBreathControl.com.