A new weekend – lots of new pictures and videos are waiting for you. My Master and I had a lot of extensive sessions in our bed. Lots of pictures and videos are waiting for you this this weekend.
My master surprised me this week that he ordered me into the bedroom after I came from the university home. He tied me first of all with handcuffs and shackles. So I had to wait several minutes before the session started. From diesser session you can expect this weekend the biggest picture gallery, which is here published so far plus two videos.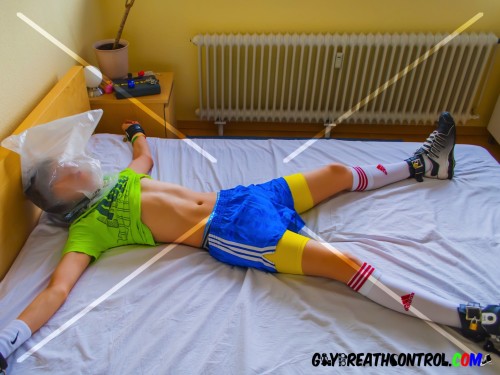 But I want to start with a session in which I wore the retro running (gym) nylon shorts (Glanzshorts) that are especially so popular in Europe and Germany.
EmoBCSMSlave Bagged and Swim Cap Breath Play in Retro Gym Shorts
For this session, I was allowed to wear the retro running (gym) nylon shorts again. and the wicked Nike Shox.
My master tied me spread eagle to the bed and pulled a bag over my head at first and later a swim cap.
I struggled to breath until I can't any longer.
I hope you like the pictures and I am looking forward to feedback, likes and share! 🙂
You wanna view the pictures without lines, full colored and smaller watermark? Then have a look to my my Xtube channel EmoBCSMSlave. You will find these and many other picture sets and videos, as you wish. You will be redirected to these pictures when you click here.