Some use a ladder to change the bulb, or hang curtains. – BOOOOOORING!
What you can do with a ladder, my master and I have already shown you here and here. Been a long time, so it was time to get the ladder out of the corner again.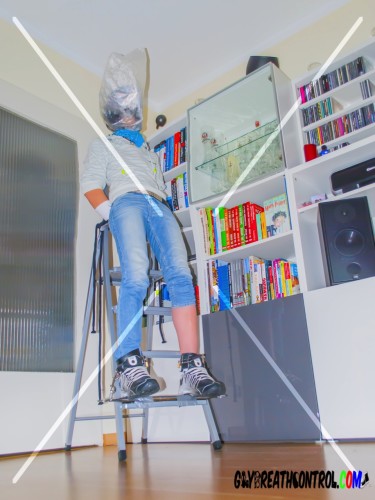 EmoBCSMSlave Bound to a Ladder and Bagged
My Master bound me to a ladder, put a bag over my head and control my breath. Before he bagged me, he let me jerk off handsfree with estim play.
Jerk Off
As I told you, my Master jerked me off handsfree with estim. At this place you can watch the preview of a 6 mins video. Hear me wail and squirm at my xtube channel.
Unfortunately Xtube no longer allows to embeded previews of premium videos. Please visit my Xtube channel to watch this awesome video. 🙂

Emo in Chastity Jerking Off Handsfree with ESTIM powered by XTube
I hope you like the pictures and I am looking forward to feedback, likes and share! 🙂
You wanna view the pictures without lines, full colored and smaller watermark? Then have a look to my my Xtube channel EmoBCSMSlave. You will find these and many other picture sets and videos, as you wish. You will be redirected to these pictures when you click here.