Yuup, it's monday… the worst day of the week…
I'll make your Monday a little more comfortable with an update. Same as yesterday I decided that the pictures are published with the "small" copyright notice (normaly the salable version) for free!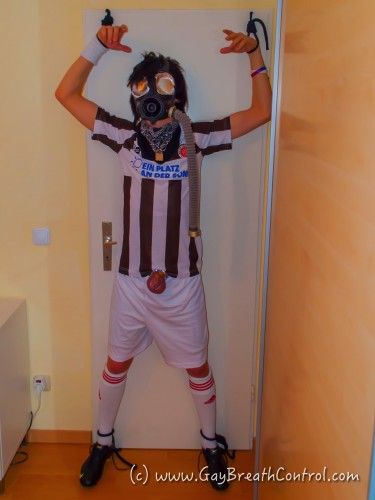 These session was also realized by request of a visitor and follower of GayBreathControl.com.
Gas Masked Soccer Kit Emo Tied Up to the Door
My Master tied me up to the door, put a gas mask over my head, put a cotton ball soaked of Poppers into the gas mask tube and…
I hope you like the pictures and I am looking forward to feedback, likes and share! 🙂
You wanna view more pictures without lines, full colored and the smaller watermark? Then have a look to my my Xtube channel EmoBCSMSlave. You will find many other picture sets and videos, as you wish.