Today you'll expect the second part of "Emo into Skinny Destroyed Jeans Bagging w/ Socks Full of Poppers". As with the series of pictures yesterday, this series will be published with the "small" copyright notice and uploaded in full resolution (please read my note below). In the coming days we will release to the pictures even a video.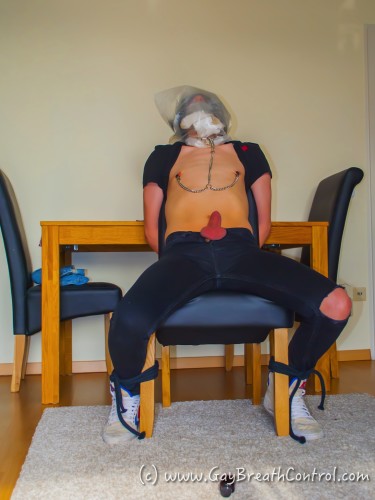 Emo into Skinny Destroyed Jeans Bagging w/ Socks Full of Poppers – Pic Part 2 –
If you like the photos and you want to see all pictures in full resolution for free, and only with the "small" copyright notice in the future, I would be glad about a small Paypal donation. You'll find a donate button on the right side in the navigation. Everyone who makes a bigger donations (more then $10) will get at least a complete otherwise to buying video of my own Xtube videos and the higher your donation, the more videos you get for free.
This is a test mode. If the test went well, in the future all pictures will be published like these (and even the old pictures) and perhaps all videos will be published for free.
Description
My Master bound me to the chair, put a bag over my head with a dirty sock full of Blue Boy poppers and let me struggle in my CB6000, later he opened the CB6000 so you can view my dick…
I'm wearing a super skinny destroyed jeans and Hummel sneakers…
I hope you like the pictures and I am looking forward to feedback, likes and share!
You wanna view more pictures without lines, full colored and the smaller watermark? Then have a look to my my Xtube channel EmoBCSMSlave. You will find many other picture sets and videos, as you wish.