As I told you yesterday there is a picture set of the video production of "Emo Mummified Breath Control with Swim Cap and ESTIM – Video –". Here they are…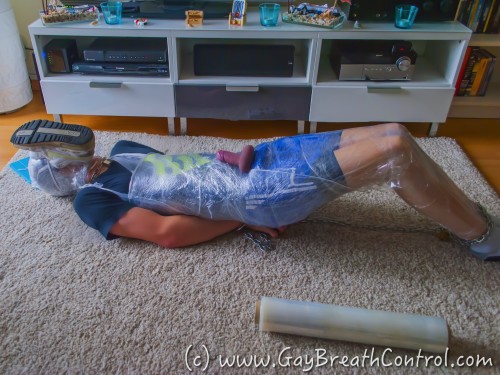 Emo Mummified Breath Control with Swim Cap and ESTIM – Pics –
Note
If you like the photos and you want to see all pictures in full resolution for free, and only with the "small" copyright notice in the future, I would be glad about a small Paypal donation. You'll find a donate button on the right side in the navigation. Everyone who makes a bigger donations (more then $10) will get at least a complete otherwise to buying video of my own Xtube videos and the higher your donation, the more videos you get for free.
This is a test mode. If the test went well, in the future all pictures will be published like these (and even the old pictures) and perhaps all videos will be published for free.
Emo Mummified Breath Control with Swim Cap and ESTIM – Pics –
Details
My Master half  mummified me with cling film, tied my hands behind with handcuffs, he put some in-ear headphones into my ears and let me hear the sound of i-doser ogasm, he controlled my breath with a swim cap and ESTIM my dick.
In the end he let sniff me his Nikes and let me jerk off (Xtube video).
I hope you like the pictures and I am looking forward to feedback, likes and share! 🙂
You wanna view the pictures without lines, full colored and smaller watermark? Then have a look to my my Xtube channel EmoBCSMSlave. You will find these and many other picture sets and videos, as you wish.
Preview
And this is waiting for you tomorrow