Normally updatest showing me appears between Friday and Tuesday. During the last weeks some updates was canceled und wasn't published.
For this reason there will be updates today (Wednesday) and tomorrow.
And there is still a novelty to announce and something I want to reintroduce.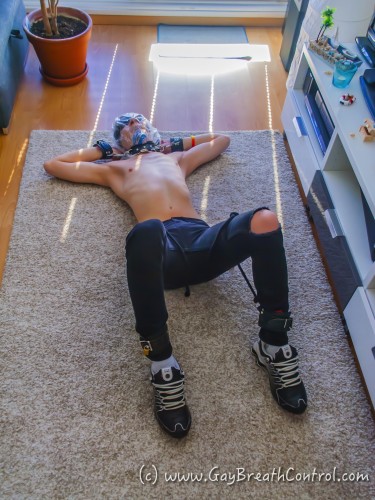 What's new is you have probably noticed. We have a new design at GayBreathControl.com.
The new design has become important especially for new features in the future. So be excited about what you expected this summer at GayBreathControl.com.
I have reintroduced that breathplay stuff will be return increased and regularly reblogged at and from Tumblr. If there are similar posts, up to four will be reblogged daily.
But now to today's picture update
Bagging the Emo Slave
Note
If you like the photos and you want to see all pictures in full resolution for free, and only with the "small" copyright notice in the future, I would be glad about a small Paypal donation. You'll find a donate button on the right side in the navigation. Everyone who makes a bigger donations (more then $10) will get at least a complete otherwise to buying video of my own Xtube videos and the higher your donation, the more videos you get for free.
This is a test mode. If the test went well, in the future all pictures will be published like these (and even the old pictures) and perhaps all videos will be published for free.
DESCRIPTION
This afternoon, I asked you at what I'm waitaing for.
This pictures set is the answer and is inspired by a Tumblr post, I have recently reblogged. My master liked it so much that we have recreated it today. 🙂
I hope you like the pictures and I am looking forward to feedback, likes and share! 🙂
You wanna view more pictures without lines, full colored and this smaller watermark? Then have a look to my my Xtube channel EmoBCSMSlave. You will find many other picture sets and videos, as you wish.