Four days left and I'll be unlocked… and it looks like I would be truly unlocked in four days – the (first) 2015 chastity challenge ends.  Why and how can you still avoid, I'll tell you after the next four pictures.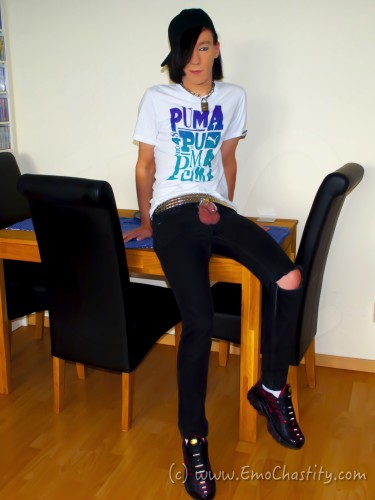 EmoBCSMSlaves Chastity Challenge – Day 146 of 150
So why the challenge ends in four days?
Although I have received more than 10 messages, why I should stay longer in chastity (although messages that say were mostly, I should stay longer, without giving a reason, but that's okay), but my Tumblr post from 7 days before got less than 50 notes.
What conditions does it need the challenge can be further extended?
Thats is quite easy …
Either, the post from June 17th, 2015 receives a total of 50 notes and this post will receive 22 Notes to the June 28th, 2015 12 AM EST…
Or this post receives a total of 50 notes.
How long will EmoBCSMSlave in chastity?
This is determined in a new challenge, which will be announced on June 28, 2015.
Snap with me