The day before yesterday I asked what happened next. Yesterday, I explained my question further and asked for answers. It's really hard to get in touch with you. (PLEASE READ MY POST BELOW)…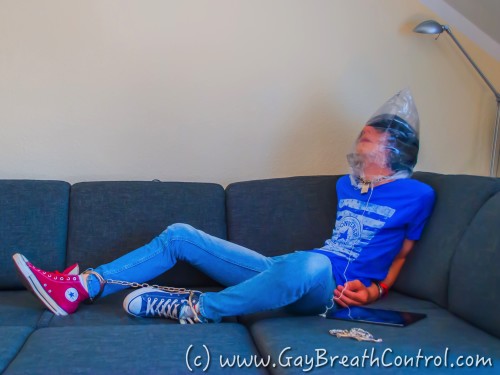 Red/Blue Emo Tie and Breath Control on Couch – Part 2 –
Note
If you like the photos and you want to see all pictures in full resolution for free, and only with the "small" copyright notice in the future, I would be glad about a small Paypal donation. You'll find a donate button on the right side in the navigation. Everyone who makes a bigger donations (more then $10) will get at least a complete otherwise to buying video of my own Xtube videos and the higher your donation, the more videos you get for free. This is a test mode. If the test went well, in the future all pictures will be published like these (and even the old pictures) and perhaps all videos will be published for free.
A Rant
It's easier to be in touch with my fans on Xtube than with you. – And there I ask far less!
I don't know if it still makes sense to ask you something, or to publish posts. It's summer… Maybe we (my Master and I) should make our leisure time differently and I should only devote this blog to reblog of impersonal Tumblr posts.
You want to jerk off, I understand that. But then I can also reblog posts from others.
You don't need me and myself! You don't need my pictures and videos.
I want to be honest. I love breath control. I can and will do it every day.
I like to present myself. I like doing it for you.
But I can have breathplay without you. It makes it easier to put away the cameras and just play with out you.
I can present myself on Youtube, Flickr and/ or Instagram, without producing sex pictures and videos.
I can still publish adult videos on Xtube.
I'm probably just disappointed about the small amount of feedback I receive recently.
Nevertheless, I have to think about how to proceed.
Maybe you're just pissed off and bored by our works.
Even feedback would not hurt.
So I have to assume that you think, it makes no sense. But in case I should close the blog!
I'm open to criticism, you see the fact that I have reduced watermark and place the pictures free of charge that otherwise were to purchase.
However, at this point there is no resonance. Even there I consider to return to the old concept. 🙁
At this point, would like to clarify that I would not close the blog, nor do I want one and only reblog posts, I also don't want to reuse the large watermarks. I just want to feel that our work is also appreciated and not bore you.
But if everything stays as it is, I do not know how it is in a few weeks or months.
Sorry for ranting … It had to get out!
Now to today's pictures.
Red/Blue Emo Tie and Breath Control on Couch – Part 2 –
DESCRIPTION
As after my master bound me with ropes, he had to realize that I was able to extricate myself too easy and he wanted to record a video, my master bound me with handcuffs and leg irons.
With a bag there was breath control.
The video will be released this Monday, another on Tuesday.
Get in touch with me or follow me via snapchat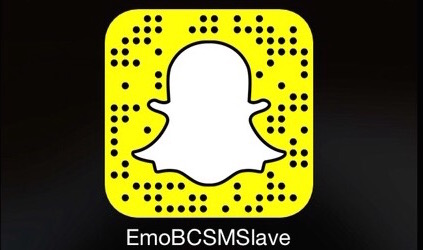 I hope you like the pictures and I am looking forward to feedback, likes and share! 🙂
You wanna view more pictures without lines, full colored and these smaller watermark? Then have a look to my my Xtube channel EmoBCSMSlave. You will find many other picture sets and videos, as you wish.