It's friiii…. sorry, no it's the night between Friday and Saturday now. I'm a little bit late but the breathless July 4th weekend should start now, with much, much breath control pictures… 🙂
But anticipating a few words.
We have currently 90°F, sometimes up to 100°F. Added to this is a certain humid stuffiness.
If I look around the city, this is already for a few people a breathplay. – At least they sound like that.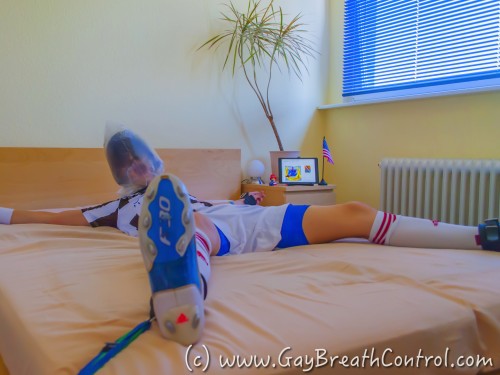 You know I always emphasize the importance of safety during breath play. You should never play alone and if you have health problems, or you do not feel good, you should not play. Better adjourn the play to another day.
And currently I do not feel always good. It is just too hot for breath control.  Nevertheless  there will be breathplay session pictures this weekend, but if the heat remains or intensified, it may be that we focus next week to bondage.
The time has not come and today, on Saturday and Sunday you expected breathplay pictures. 🙂
Tied Up and Breath Controlled in Soccer Gear Emo
Note
If you like the photos and you want to see all pictures in full resolution for free, and only with the "small" copyright notice in the future, I would be glad about a small Paypal donation. You'll find a donate button on the right side in the navigation. Everyone who makes a bigger donations (more then $10) will get at least a complete otherwise to buying video of my own Xtube videos and the higher your donation, the more videos you get for free. This is a test mode. If the test went well, in the future all pictures will be published like these (and even the old pictures) and perhaps all videos will be published for free.
DESCRIPTION
This time my Master tied me to the bed, pulled a bag over my head, in my mouth, he placed a spider gag.
Then he let me wriggling in my soccer gear.
Tied Up and Breath Controlled in Soccer Gear Emo
Get in touch with me or follow me via snapchat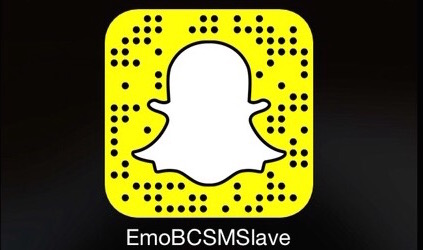 I hope you like the pictures and I am looking forward to feedback, likes and share! 🙂
You wanna view more pictures without lines, full colored and these smaller watermark? Then have a look to my my Xtube channel EmoBCSMSlave. You will find many other picture sets and videos, as you wish.