You and I are thinking it's time for a new chastity challenge.
And like last time, you're required again. More on that later, among other things the point is to like and re-blog the basic and the following article between Aug. 10th and 19th, 2015.
Play a new game with me! – Play the 2nd 2015 Chastity Challenge – The Rules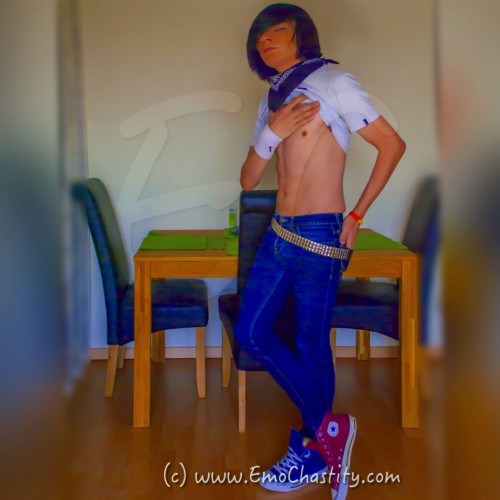 You are viewing three pictures of me. In the first you see my belly and exactly this is to be a part of this challenge.
A challenge into two parts
I think it is time that I build again defined abs. I have already done this two years before by using the iOS app "Runtastic Six Pack Abs Workout, Trainer & Core Ab Exercises".
This app is built into three phases over 50 training days (plus rest periods), beginning 10 days of training, midsection 15 training days and ends with 25 days of training.
The first success should be seen after the first part.
But how does the app and muscle building related to the challenge? – This will be the second part of the challenge
Quite simply, once the app should show successes (after about 7 training days, two weeks), I'm going to post a picture after each unit and then you decide, depending on the success or failure, how many days of chastity added to the base of chastity. But more about that into the next two weeks.
However, at this point we should talke about the base of the challenge and this now you are important!
These are the rules for the first part of the challenge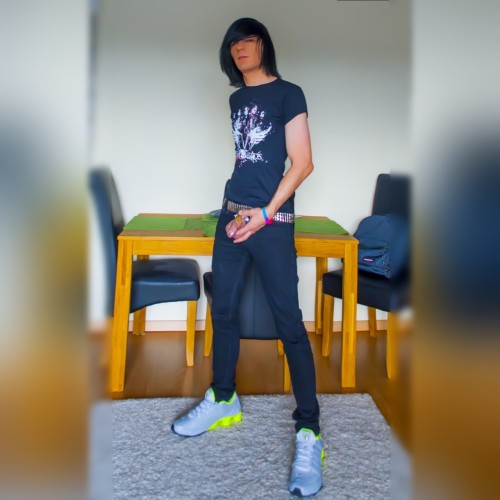 As of today (Aug. 10, 2015, 3.15 PM ET), I'm locked up in CB6000 for 10 days as a base (Aug. 10, 2015, 6:00 AM ET to Aug. 19, 2015, 5 PM ET)
for each REBLOG of the original post (this one) 6 hours will be added (from now to Aug. 19, 2015, 5 PM ET).
for each LIKE of the original post 1 hour (from now to Aug. 19, 2015, 5 PM ET).
I will report about my chastity and how long I've to be locked up on a daily basis. Every like and/or reblog of the daily report will add 1 additional hour to my chasitity! Only the reblogs and likes of the day of publishing counts. 😉
Accumulation of hours will end on the day and time my additional lock-up would end so on Aug. 19, 2015 at at 7:15 AM ET. For example if you have reblogged the original post 40 times, with 240 likes ad you have reblogged and liked the daily reports in a total of 720 I will be locked up 1200 additional hours, that means 50 days, that starts on Aug. 19, 2015 at at 7:15 AM ET. So I'm locked from Aug. 10th to Sep. 29, 2015 6.15 AM EST)
Since I'm somewhat of a health and clean freak I'm allowed a maximum of 5 minutes of supervised unlock to clean myself and the chastity a day.
I'm allowed to cum once a week. I'm not permitted to touch my dick. I've to cum handsfree with electro, dildo / butt plug, poppers, whatever…. If I've enough time I'll post a video of this every week at my xtube channel. I decide whether my penis is locked or unlock. If I decided to cum unlocked 24 hours will be added. Additional 12 hours will be added if I cum with the help of electro or poppers (each one 12h plus), 6 hours if I cum only with a plug or dildo ( if I also use poppers or electro 12h plus). If I cum without any help and handsfree 1 hour will be added. This hours will be added every week I cum!
With the beginning of the second part, additional days will added for the success or failure of my workout and you are going to decide this.
I don't hold the keys myself. I've given them to my Master. He's my keyholder! So if decide to cum unlock, I've to speak to my master and have to beg him for the key and the permission to cum unlock!
Report Time
The chastity pictures of the day and daily report will be blogged every day at 5 PM ET at emochastity.com and gaybreathcontrol.com.
Again, I will report about my chastity and how long I've to be locked up on a daily basis.
Sample Calculation
I will update this part every day between 2 and 4 PM ET.
Summary of the 10 days (Aug. 19, 2015, 3.00 PM ET):
Basic post at Aug. 14th, 2015 5.00 PM ET
Reblogs: 61 x 6h = 366h
Likes of basis post: 90 x 1h = 90h
Daily Reports:
Day 2 (1h per like and reblog): 56 x 1h = 56h
Day 3: 45 x 1h = 45h
Day 4: 19 x 1h = 19h
Day 5: …  x 1h = …h
Day 6: …  x 1h = …h
Day 7: …  x 1h = …h
Day 8: …  x 1h = …h
Day 9: …  x 1h = …h
Day 10: …  x 1h = …h
CumShots:Handsfree and locked up
w/o electro, butt plug, dildo or other things: …x 1h = …h
w/ electro, poppers or something else: … x 12h = …h
w/ anal stimulation (dildo / butt plug): … x 6h = …h
Handsfree and unlocked
w/o electro, butt plug, dildo or other things: …x 1h = …h
w/ electro, poppers or something else: … x 12h = …h
w/ anal stimulation (dildo / butt plug): … x 6h = …h
plus unlocked penalty: … x 24h = …h
Total: 576h (24.0 days = 24 additional days from Aug. 19, 2015)