Currently I'm in semester break, so I'm at home and doing my "slave things", while my Master is at work. As I woke up today, I found a notice, in which my Master ordered me, to wear this (sorry, in my opinion is this tracksuit pants is one of the awfulest clothes that was ever produced) pants, the shirt and the rubber mask. While he's at work I should wear that and wait 'til he's coming home.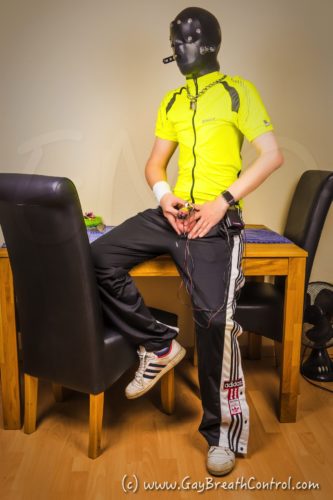 You won't BELIEVE what happens next…
EmoBCMSlave is still locked – Day 295 A morning suprise
Sorry, for the text which is a little bit like a clickbait headline. 😉 Don't judge me.
So what happens today?
My first post after my big break with the challenge reached the 100 notices yesterday midnight.
Thank you so much, that you're still there. 🙂
We recorded the promised video of a breath play and bondage session with a cumshot today.
We recorded seven videos. I've to cut them to one "long" video.
I hope, I can cut the video tomorrow. 🙂 Please've a little patience.
So see you tomorrow guys with the chastity picture of day 296. 🙂
Get in touch with me or follow me via snapchat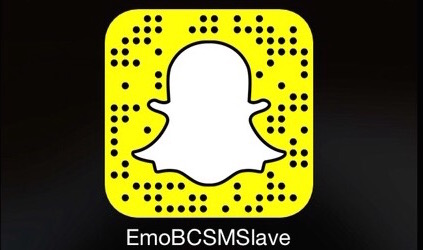 I hope you like the pictures and I am looking forward to feedback, likes and share! 🙂
Note
If you like the photos and you want to see all pictures in full resolution for free, and only with the "small" copyright notice in the future, I would be glad about a small donation via Amazon. You'll find a button on the right side in the navigation. Everyone who makes a bigger donation (more then $10) will get at least a complete otherwise to buying video of my own Xtube videos and the higher your donation, the more videos you get for free. This is a test mode. If the test went well, in the future all pictures will be published like these (and even the old pictures) and perhaps all videos will be published for free.
You wanna view more pictures without lines, full colored and these smaller watermark? Then have a look to my my Xtube channel EmoBCSMSlave. You will find many other picture sets and videos, as you wish.