This is my new video "EMOBCSMSLAVE'S BREATHLESS SWEAT SUIT CUMSHOT", which I promised you of a breath play and bondage session with a cumshot.
For the first 14 days after publication It's for free. It's a "thank you" campaign for following me for more than 5 yerars and after my long break. 🙂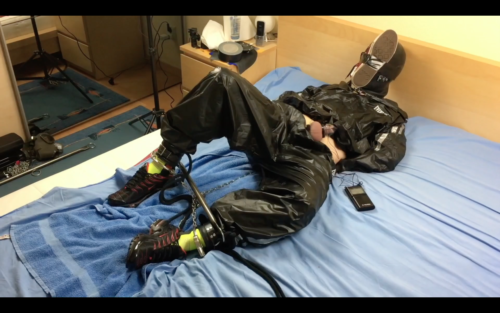 For a limited period only the video will be for free for you. 
For the next 14 days (from Sep. 09th 2017 to Sep. 23rd 2017) the video is gratis. 
From then on the video is a normal "pay per view" video on my xTube channel.
EMOBCSMSLAVE'S BREATHLESS SWEAT SUIT CUMSHOT – For free for a limited period –
I'm wearing my sweat suit, an ESTIM chastity, Nike TNs and a rubber mask.
My Master hogtied me to the bed, switched the ESTIM on and let me struggle.
I was so horny I tryed to fuck myself with my bound hands. After 7 mins my master thought it was enough. He put a swim cap over my rubber hooded face and chose the highest setting of the ESTIM device.
I was struggling for air. At one point I was so horny I did not feel the pain of the ESTIM or the lack of air anymore. It felt so good at this moment. I did not want it to stop but I could't stop my cumshot…
I hope you like the 11 mins video. 🙂
Don't forget I promised you, there will still be vids of me that are free and not at my JFF amateur profile. 🙂 You'll find them also at GayBreathControl.com.