As a little thank for reading this post you'll find a "short" video in it. 😉
Maybe you've already recognized, the blog got some beauty treatments.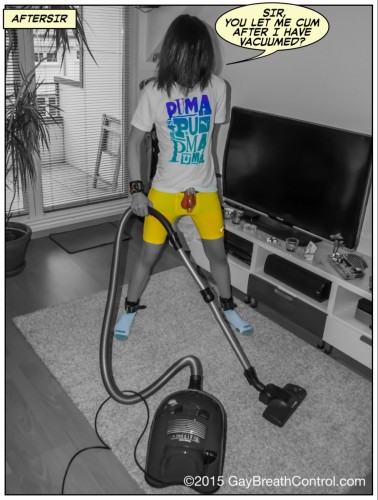 New theme and backend changes, e.g. videos are possible
First I've purchased a new theme, which is online and active since February 1st., 2018.
Then we've done some changes in the backend of the blog and server, which are also active now.
These changes allow to upload videos to our server and integrate them directly into the blog.
With this step, GayBreathControl.com is more independent of Xtube. I am very grateful to Xtube for allowing me to host and sell my videos there.
And I will continue to cooperate with Xtube, sell and upload my videos there. But the "unwanted video" also showes me that a certain independence from third parties services like Xtube are needed.
This is possible with this step.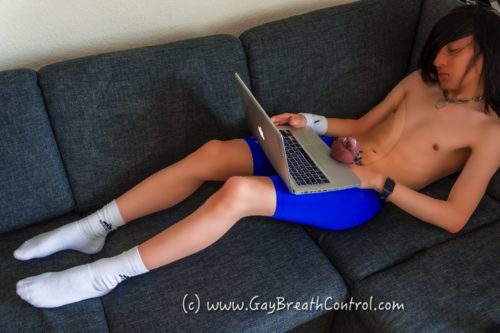 Video Section
In the same breath I've reorganised the video section which shows me.
There were two, no three problems…
First and second problem resolved
The first and second problems were, that Xtube changed the code for embeded videos and they no longer allows you to show the 10 seconds previews of premium videos. You can't no longer embeded premium videos outside of Xtube.
Free Xtube videos
For all my free videos on Xtube I've update the embeded codes, so you can watch all videos again at GayBreathControl.com.
Premium Xtube videos
For upcoming premium videos I'll publish 30 seconds excerpts of premium videos here with a link to my Xtube premium video.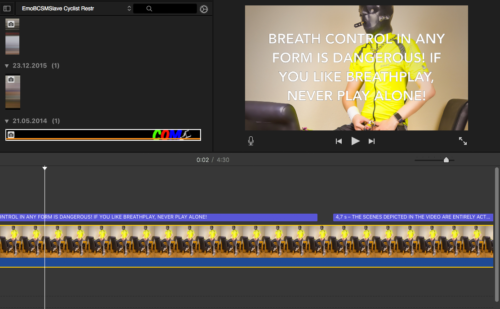 Problem No. 3 – also resolved
The third problem was, that I've hosted some videos on youtube that show breath control, w/o any other adult content. So youtube doesn't allow asphyxia videos and they've deleted these videos and terminated my account. That's okay! That's are the rules of Youtube, which I have not read good enough. My fault!
These videos were offline for a long time, because I were looking for an alternative.
Vimeo (some other fetish blogs host their videos there) wasn't an alternative because they also doesn't allow asphyxia or bondage videos. For Xtube the videos are not kinky enough, I think.
So where should I host these videos? Here on GayBreathControl.com
With the changes we've done, I can upload and host them on my server. 🙂
From now on the videos are back and you can find them in the video section.
Upcoming free videos
At the moment most of the upcoming free videos will be uploaded to and embedded from Xtube. I'm sure this spares the resources of the server. I think, you benefit from this decision, because a video retrieval may slow down the server.
I'll observe the average utilization with the videos I've already uploaded to our server and will upload some more videos to test the CPU, memory, I/O usage and so on. If I'm sure, the videos doesn't slow down the server or occupied any other services, so that doesn't touch your user experience in a bad way, maybe all free videos will be uploaded to my server.
Now your help is required
With a plug in my blog is connected with my tumblr blogs @EmoBondage and @EmoBCSMSlave.
In the past I've reblogged some Tumblr post, I've used some Xtube videos from others who allows to embeded their videos on third parties websites.
With the new theme and new embeded code of Xtube some of the posts are not shown. Sometimes videos are missing, sometimes pictures are not there.
You can help me by reporting these posts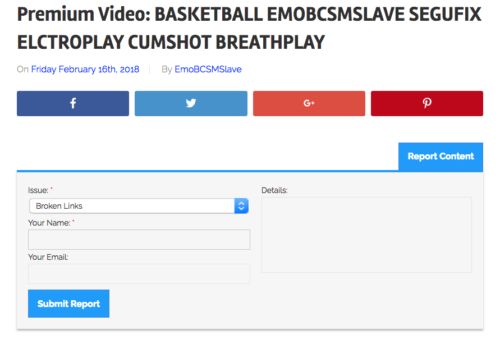 At every post you'll find a "report content" button. Please click the button and choose "Broken Links".
You don't have to tell me your real name (yes, it's a requiered field, but you can write any name you want into it), your e-mail adress or details (these are not requiered fields).
If you wish an answer it would be a good choise to insert an e-mail adress that works and it's yours. 😉
Thank you for your efforts!
If you find any other problems, not shown content or something else you can also use the button. 😉
I really appreciate your assistance and that you're a follower, maybe a fan of me and the blog.
You see, Housekeeping and janitor were here. 🙂
Yours
EmoBCSMSlave