Dear Sirs, ?
hello slaves!
Welcome EmoBCSMSlave Followers! ❤️
Merry Christmas! ?
I talked about a decision-making about Xtube and publishing my premium videos. After more and more problems with Xtube (they have a problem with some fetish content, e.g. Poppers, some breath play), I decided to find a new or second platform for my premium videos.
I know I have a lot of fans who wished an alternative to Xtube.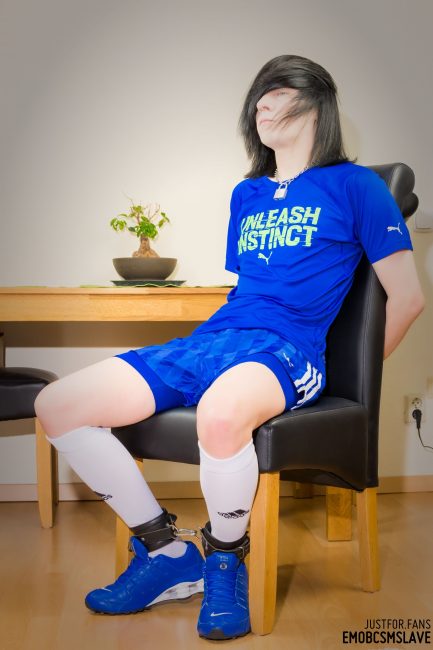 For some time now I have been seeking for to make you an opportunity to make it possible for you that you can watch my premium videos for a monthly flat rate instead of paying each video.
I think with JustFor.Fans I found the possibility.
For a "small" subscription fee you will be able to view all my premium videos, plus all of my pictures in full resolution on JustFor.Fans in the future for a monthly subscription fee.
What if you don't want monthly subscription fees and only some individual videos?
How to get my videos if you won't subscribe?
If you do not want to subscribe my channel monthly, you can purchase each video individually through JustFor.Fans, too.
As non-subscriber you'll find all videos in my "JustFor.Fans store" for downloading, so the videos will be on your hard drive and you can watch them and cum as often as you want.
And most videos will be cheaper for you on JustFor.Fans than on Xtube , because my fees on JustFor.Fans are also lower. ?
What if you subscribe me?
How to get my videos as a subscriber?
JustFor.Fans subscribers should find them in the post and the video section. They are for "free" for you. You can watch them iin your browser and don't have to pay extra fees if you watch them in your browser.
When will old and new videos be available?
All previous videos are already available on JustFor.Fans, – including a brand new, at the moment exclusive, poppers training video, which Xtube has deleted before.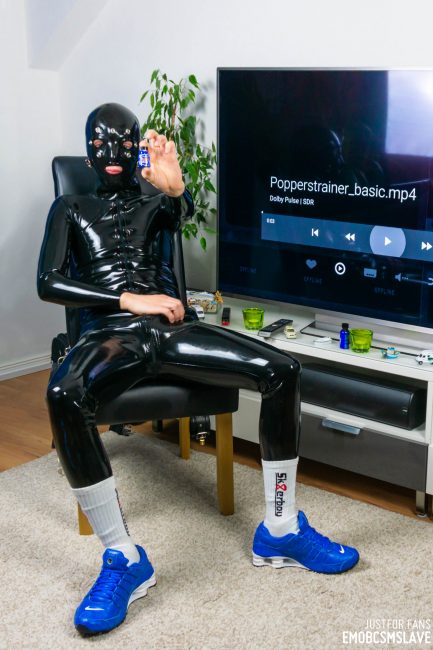 In the next few days I will upload all previously published pictures.
I'm still thinking how to split them in one big album or not. It will take me a few days to upload the images to JustFor.Fans, so please be patient. Thank you! ?
Welcome Gift for all – Save Money
With the link https://justFor.fans/EmoBCSMSlave?Promo=JustForEmoBCSMSlave you get the first month for only $4.95 as a welcome present (Coupon expires 01/31/2019). After this trial month the monthly subscription starts at the regular prices.
It's possible to cancel your subscription at any time.
Even if you cancel, you will have access to my feed until your current subscription date is over. Find more information on the JustFor.Fans  FAQ page on https://justfor.fans/faq/
You can also save money if you subscribe my channel for a every 3 month or 6 month bill.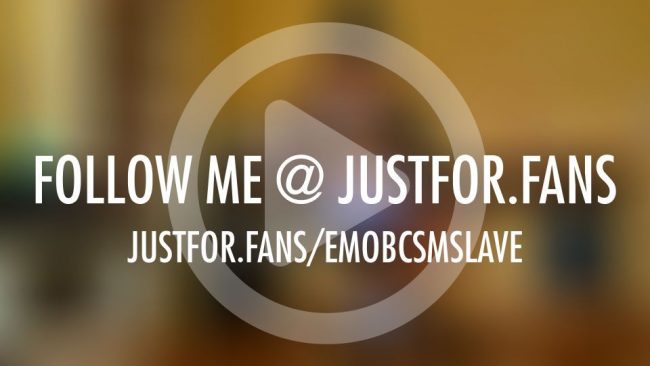 Win* a 30 days free subscription of my JustFor.Fans channel
Figure out how to win at the end ot the post. 😉

Your Requests
You can request pictures and videos when ever you want. Maybe or I hope we (my Master and I) can fulfill your wishes.
With JustFor.Fans it is possible to prodruce exclusive videos and pictures for you. No one else than you will see or watch them, if you want**.
(**Exclusive videos and pictures are not included to the subscription. Please ask for more details and prices.**)
How many Videos?
I'll post at least one or two premium videos per month, if it's possible. But I will try to publish more premium videos. My goal is one premium video per week. But at the moment this is a goal and not fixed. But one (two) videos per month are fixed!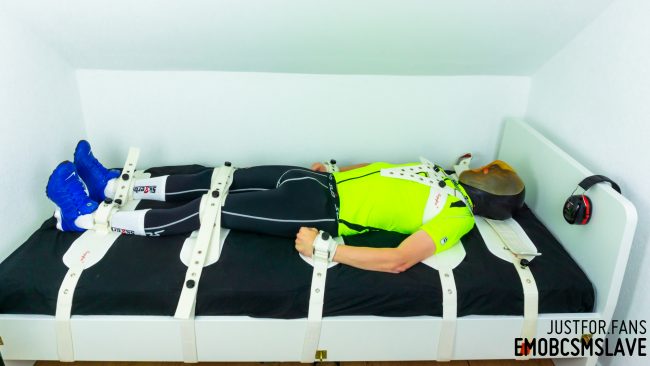 No, there will be no changes.
I'll post my pictures of sessions for free (same resolution as now, full resolution on JustFor.Fans for subscribers only) and free videos.
Why I'm using JustFor.Fans or Xtube?
JustFor.Fans (same xtube) is an addition to my blog, which should financed the GayBreathControl.com servers and some toys as usual. (Xtube did before.)
It won't make me rich and won't bring any profits to me. It just allows me to pay the servers, the cameras, lenses and buy new toys and fetish clothes for the videos and pictures for you.
Thank you! ❤️

So thank you for subscribing and for being a fan. ?
Yours
Rick
EmoBCSMSlave
And now…
Win a 30 days free subscription of my JustFor.Fans channel*

This is an exclusive prize which is only available for you on GayBreathControl.com.
How you win the 30 days free subscription*?

Nothing is easier than this.
Write in the comments what you want to view or watch on JustFor:Fans or GayBreathControl.com, or what I should do next.
Of all submissions, if there are more than one, I will draw one winner for the 30 days free subscription by lots. I will do that live at my Cam4 channel (cam4.com/emofanboy) while a Cam4 session.
You're only allowed to enter the contest with one comment. If you writhe more than one comment, the others will not be considered.
Enter your correct e-mail address so that I can send you the link for your 30 days free subscription and and the instructions how to redeem.Deadline for the contest is January 1st, 2019, 11.59 pm ET / eastern standard time (World Clock).
No payout of the win. There is no right of appeal.  All decisions are final.
Please only enter the contest if JustFor.Fans is available in your country. If JustFor.Fans isn't available in your country it's your loss. Sorry.
(*This contest is not affiliated with JustFor.Fans, Cam4 or Xtube)
Good Luck!