EmoChastity Challenge 2021 – Day 1 to 8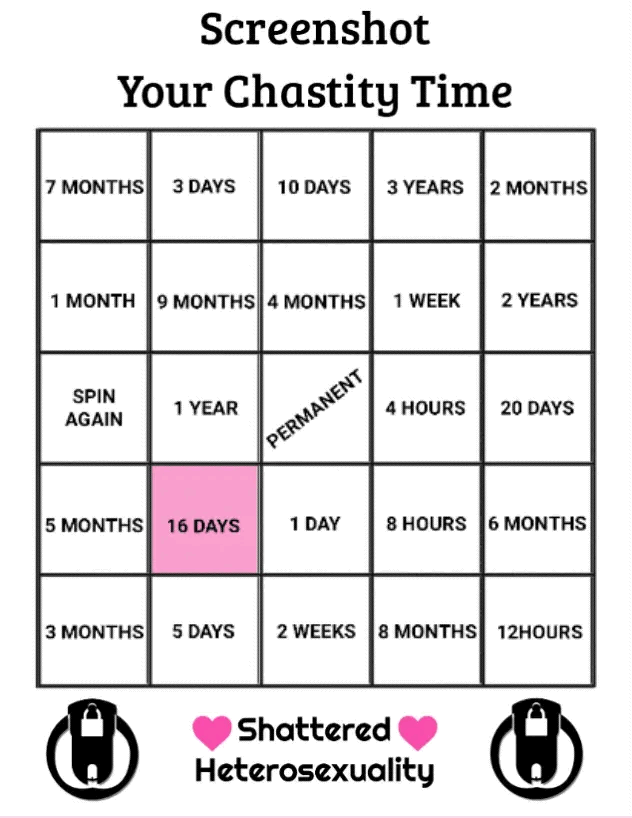 I'm not sure where I found it, but I found it on BDSMLR.com (emobcsmslave.bdsmlr.com) or Tumblr. – Meant is a meme or rather a gif.
The assignment: Take a screenshot from the GIF, this gives you the challenge. No matter what box "lights up" in the screenshot of the GIF, this is the time to spend in chastity.
At first I made it for fun and it ended up with a year in a chastity device. 🙈
On my tumblr @EmoBCSMSlave* which I once started with my first chastity long-term experiences, I asked if I should accept the challenge. So I didn't know how many people were likely read my posts, because since Tumblr has changed their rules, I'm rarely active there, I said if my post reaches 100 notes within a certain time, I will start the challenge from first of March.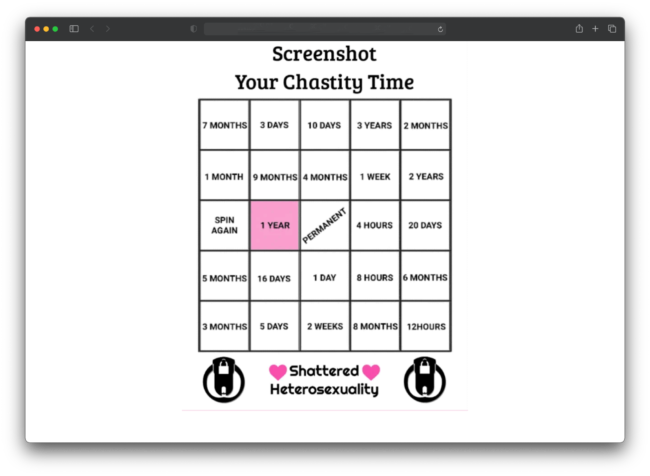 What can I say, the post reached over 140 notes*. Thus, I am locked in one of our chastity devices since last Monday. My beloved Master has the keys and enjoys that I am locked again. Btw. he wanted to lock me up from my birthday until summer anyway. So he or we start three weeks earlier and I wear the chastity belt at least the next 365 days. – Well, now I already have made 8 days of 365.
For clarity, I will publish a post once a week with pictures from each day. For each day I try to publish at least, rather two pictures or more.
The beginning – The first day
My chastity time began on March, 1st 2021 after a road bike ride, a video shoot of my last jerk off and from a breath control session.
As I told, it all started after a road bike ride. I was not yet completed and could once again show my … under my cyclings shorts.
After that I had to lock my dick.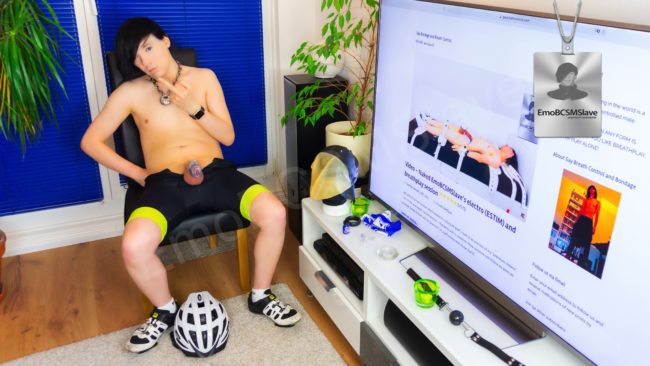 Can you see the cage under the BIB?
Day 2 in Chastity
First you can't see the chastity *haha* but then here it is…
Day 3 – Even at night I worn my chastity belt…
Day 4 – Good morning, Sir
Day 5 – Surfing in the internet – Locked in CB
Day 6 – No matter where I go, my cock is in the CB
Day 7 – The CB is also worn proudly at online meetings
That's it for this week. – Or the last one. 😉
*Goodbye Tumblr
At the end I have some bad news. For all those who followed me on Tumblr, the blog was terminated while I was writing these lines. I don't know why. Presumably Tumblr is now deleting all "adult blogs". 🤷🏻‍♂️
So goodbye Tumblr and I'm only here, on Twitter, JustFor.fans, Xtube and rarely on BDSMLR.
Say hello again to Tumblr
Tumblr has restored my blogs there. Thank you to the support of Tumblr. 🙂
Did you know that Tumblr classify BDSMLR  – and I quote from an email I got from Tumblr after I I asked what happened –
"that violate our (Tumblrs) policies on Spam & Deceptive links (like bdsmlr.com)".
I didn't know it either.
It looks like accounts that link to this website are going to be automatically banned from Tumblr.
My account (my blogs) were automatically terminated. The link to BDSMLR was only in the drafts of this mirrored post, so the post wasn't published at that moment. I know it better now and will no longer link to that on Tumblr. So thanks again to Tumblr for restoring my account and blogs. I'm serious about this.
So hello again, Tumblr.
What's next…
For all those who are only or more interested in chastity, I see you again at the beginning of next week at the same this place. 😊
Everyone else I hope to see again this week with some new breathplay pics and clips. 😃