This is another trial photoset. Their are three experiments.
I played again with HDR and new with the aspect ratio of the photos. Usually I use a 4:3 (3:4) ratio. For this photoset, my master made, I use a 16:9 ratio. I hope you like the 16:9 landscape format. 🙂
The third trial is an experiment for all you, who doesn't own a rebreather gas mask.  We use a plastic bag and a specially prepared gas mask as a selfmade option.
How the gas mask was prepared can be read after the photo set.
EmoBCSMSlave into Soccer Gear Sniffing Sneaks and Breath Controlled
What happened at this session?
As you can see, I wear a soccer shoes and socks, a lycra compression shorts and gas mask.
My master tied me up with handcuffs and leg irons on our bed. He let me sniff Nike sneakers and controlled my breath with a selfmade rebreather bag.
The sneaker was fixed with cling film to my head.
At first you will find the set w/o the HDR effect. The same picture w/ HDR can be found below.
I hope you like the set and would appreciate comments! 🙂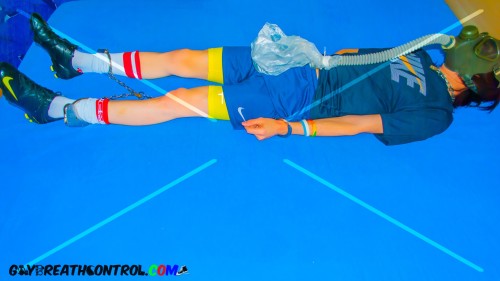 How the Gas Mask was prepared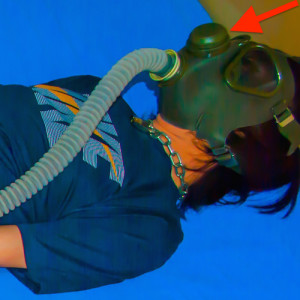 So I told you, that we used a prepared gas mask as rebreather gas mask.
Why it has to be prepared?
A gas mask, that isn't prepared can't use as rebreather gas mask, because a normal gas mask doesn't allow you to inhale and exhale through the breathing hole.
For this purpose, the valve must be removed at the hole for breathing. This we have done with this mask.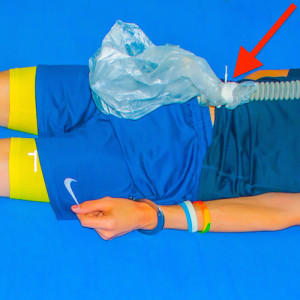 Instead, the hole for exhale however has to be sealed (for this gas mask model see the arrow).
Because we just had no rebreather available, we used a plastic bag. My Master has tied this up with laces on the tube of the gas mask (see arrow picture right).
But be careful with a plastic bag!
A plastic bag can be sucked into the tube and the slave gets absolutly  no more air! So be careful!
I hope you liked this short tutorial and would like to know if you want to read more tutorials and how to's? Please write it into the comments. 🙂
And now to conclude the HDR photo set as  gallery.
EmoBCSMSlave into Soccer Gear Sniffing Sneaks and Breath Conrotlled – HDR