This is the second part of "Fox Bound: Two colored Mummy – Part 1"…
Fox Bound wrote:
I posted the first series of photo's of my mummification last week. We had a great time and lots of pictures where taken. I was wrapped up by my rubber friends. When I was all covered and not able to move anymore, they posed with they're mummy.
It was great to feel hands all over my body. Not knowing who touched me and only hearing muffled sounds. They teased me and had a good time with each other.
They played right before me but I could not see what they were doing. Frustrating not able to join the fun but also very exciting to be wrapped like this and getting all kind of fantasies of what they could be doing to each other. While they where playing they tease me by rubbing a hard spot in the cocoon. Get me excited and then let me stand there again before anything would happen. This repeating several times. But lucky for me, they did not leave it by teasing alone !!
Fox Bound: Two colored Mummy – Part 2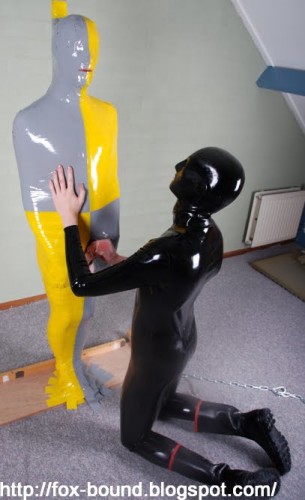 Source: Fox bound The Mummy (Part 2).
Proud to present you with the permission of Fox bound pictures out of his blog.
Please visit his blog fox-bound.blogspot.com for more of his unique bondage and breath control pictures.