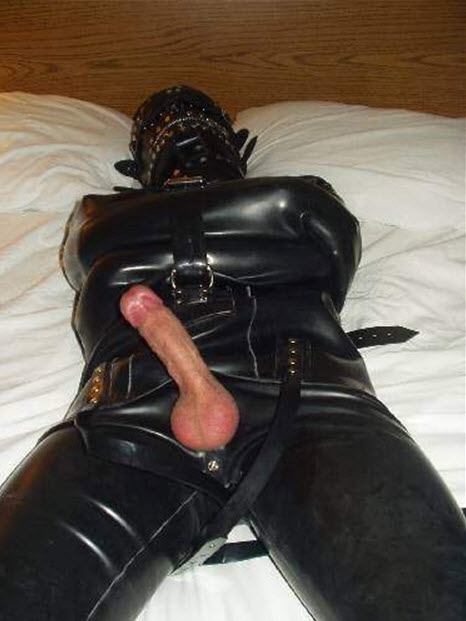 Here is a bondage tip.

When you are strapping a guy into restraints, pay attention to his cock right at the "point of no return".  You know, that moment when the lock clicks, or you fasten the arms together on the straitjacket…that second when he can no longer escape on his own. If his cock is rock hard, and applying restraints makes him harder, you know he's really into bondage.

For this kind of guy, you shouldn't just grab his cock and start playing.  Once he is all tied up, you should just let him stew.  For him, the initial thrill of being tied up is a rush…his cock will be engorged and speaking for him…wanting you to get on with the program. 

Don't listen to his cock.  Instead, just wait quietly. 

He'll eventually start to complain of course, horny as he is.  He'll want you to do something. He may become very verbal, maybe even angry that you aren't taking any action.  This is when good gags and hoods come in handy.  Keep his mouth occupied…let him know he isn't in charge.  

When you see his cock get soft…really soft…then you can start playing with him.  The point isn't to get him off, the point is to make him want to get out, to force him to struggle against the restraints.  This will make them get hard again.

You see, for guys that are really into bondage, it isn't about getting off.  It's about being restrained.  Keep them in restraints, remind them they are in restraints, add more and more restraints…and learn how to wait.

When the time comes, they won't just cum, they'll erupt.