The last time I presented myself naked, there was the legitimate argument that I would have been wearing soccer socks.
For this session the socks also fallen.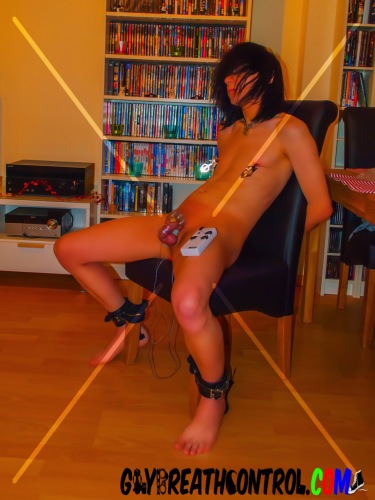 I sat there completely naked, my Master chained my hands with handcuffs on the back of the chair and tied my legs on the chair legs and put electrio on my cock – alternately a swimming cap and a bag over my head take my breath away..
This time there was one rule: "Cumshot, or lose consciousness"

I hope you enjoy the pictures as much as I like them.
Oh, pays attention on the last picture …;)
EmoBCSMSlave in CB6000 – Naked Breath Control and Electro Session
You wanna view the pictures without lines and smaller watermark? Then have a look to my my Xtube channel EmoBCSMSlave. You will find these and many other picture sets and videos, as you wish.
You will be redirected to these pictures when you click here.