After the previous series that went to the limits, my master has not only taken me the air I breathe this time, but rather he humbled me by licking his Nike Air Max. It made me so horny that my locked dick in his Chastity CB6000 not only was moist, but rather cums on its own. 😉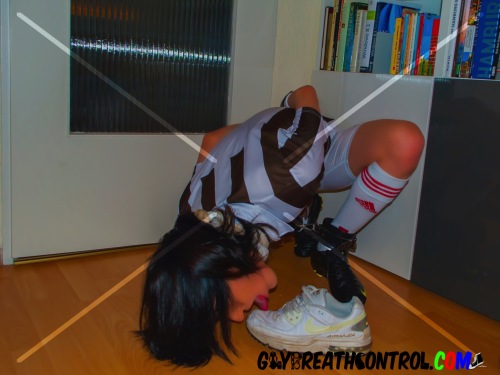 It was not just licking his sneakers, which made me horny, it was also the smell of his dirty socks which he wrapped around my nose and mouth and he left me sniff under the bag at the breath control play.
Did I mention that I cums of its own? – Well, who makes floor dirty must also make this clean again. So my Master let me lick the ground clean.
I like this photos so much that I also attached the as HDR version.
Soccer EmoBCSMSlave Bound, Breath Controlled, Sniffing Dirty Socks and Licking Air Max and Cum
Did you like these pictures? Then let us know and write it in the comments.
You wanna view these pictures without lines and smaller watermark? Then have a look to my my Xtube channel EmoBCSMSlave. You will find these and many other picture sets and videos, as you wish.
You will be redirected to these pictures when you click here.
Soccer EmoBCSMSlave Bound, Breath Controlled, Sniffing Dirty Socks and Licking Air Max and Cum – HDR –