After a short Christmas and New Years break, I'm back.
This photo set is a sneak preview of my new video that is waiting for you following weekend!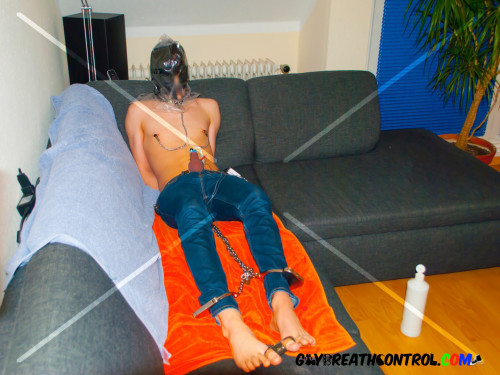 This time, I'm barefooted, wearing skinny jeans, my master has drawn a bag over my head, tied my arms behind my back with handcuffs, my feet with leg irons and my toes with toe cuffs. – So I could not escape my fate.
By the way, at my cock was properly electro and an electro probe was in my ass.
But only after I passed out and cum, I was freed – but that awaits you within the video this weekend.
EmoBCSMSlave Barefooted Breath Control w/ a Bag and tied w/ Toe Cuffs, Leg Irons and Handcuffs
I hope you like the pictures and you are looking forward to the video! 🙂
Oh, I want to make you attention to a little new feature.
From now on you will find on each post a small Tumblr button

.
If you click the button above a post, you can easily share every post and picture set on Tumblr with your followers!
You wanna view the pictures without lines and smaller watermark? Then have a look to my my Xtube channel EmoBCSMSlave. You will find these and many other picture sets and videos, as you wish.
You will be redirected to these pictures when you click here.
Yours
EmoBCSMSlave