Day 2 of the update weekend #13…
Though this session and photoshoot was created spontaneously, the day after my birthday, but we have fulfilled the request of user Matze with this session.
In this part of the session you can already seen a part of Matze's desire. At Tuesday (or tomorrow, if the planed video isn't be processed at Xtube) I'll publish a further part of the session. There, the desire is fulfilled completely.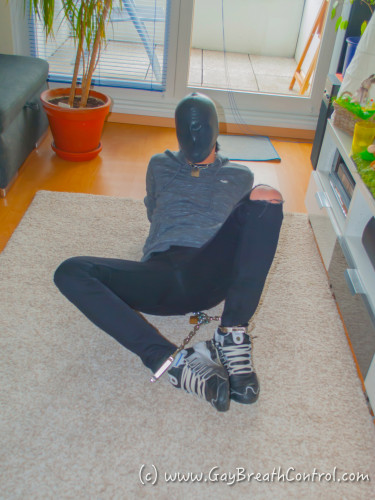 Emo Destroyed Jeans and Swim Cap Breath Play
For an emo concert I bought new destroyed, black skinny jeans… My Master saw me in my jeans and thought it would be a great idea to tie me up immediately, to draw a swim cap over my head and let me squirm breathless.
I hope you like the pictures and I am looking forward to feedback, likes and share! 🙂
You wanna view the pictures without lines, full colored and smaller watermark? Then have a look to my my Xtube channel EmoBCSMSlave. You will find these and many other picture sets and videos, as you wish. You will be redirected to these pictures when you click here.