I had announced yesterday that the first weekend update would be released later. I'm so sorry that you had to wait until today (Saturday, Mar. 28th, 2015). As a compensation the updates will be posted every day until Tuesday! 🙂
Today, tomorrow and Tuesday I'll publishing pictures from the last breath control sessions, Monday I'll publishing an extreme awesome video.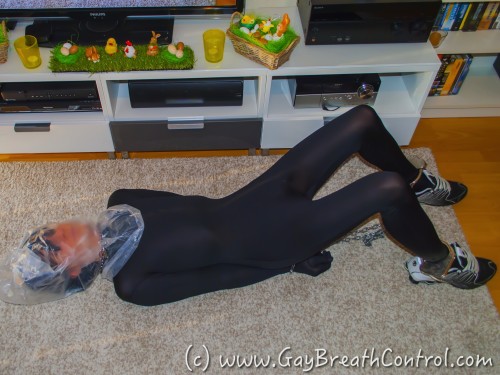 The shooting and the session was created by request of a user. From this photo shoot will be released a video on Monday. 🙂
As compensation that these pictures were published late, I decided that the pictures are published with the "small" copyright notice, which in itself would be just the salable version.
Emo wearing Zentai bagged until passing out
As I said before, these pictures were taken by the request of a user.
I wear, as you see, my Zentai and Master's Nike Shox. My master has drawn a bag over my head to make me squirm until I'm passing out.
I'm tied up with handcuffs, leg irons and chains.
I hope you like the pictures and I am looking forward to feedback, likes and share! 🙂
Preview
And this is what awaits you tomorrow