I hope your sunday and weekend were awesome and breathless or you have taken your sub's breath away… 😉
Last week I asked you: "what would you do with me if you find me…". This set is the solving what my Master did with me.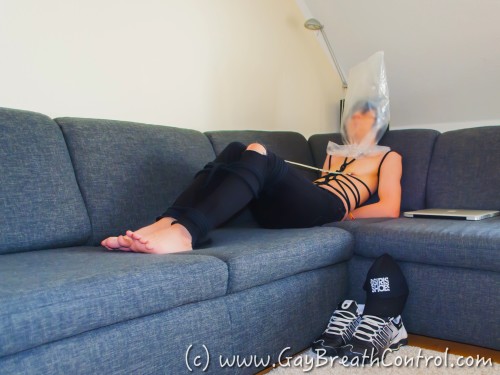 Because it's sunday and there was no update yesterday I decided that the pictures are published with the "small" copyright notice (normaly the salable version) for free!
Bagged Emo Breath Play and Rope Bondage in his Destroyed Jeans
My master saw me sitting barefoot on the couch as I was surfing on Tumblr fetish gay blogs, instead of learning. He thought, this must be punished.
First he took handcuffs and goggles, whose glasses are taped. After that my Master put handcuffs on my hands and he put me the glasses on.
Then he took ropes, opened the handcuffs, ordered me to take off my hoodie and tied me with the ropes. He pulled a bag over my head and closed it. To suffer me a bit more, he put nipple clamps on my nipples.
I hope you like the pictures and I am looking forward to feedback, likes and share! 🙂
You wanna view more pictures without lines, full colored and the smaller watermark? Then have a look to my my Xtube channel EmoBCSMSlave. You will find many other picture sets and videos, as you wish.
Preview
And that expects you tomorrow.