This weekend expecting you photos that you have requested repeatedly, or you have wished.
So I expect you naked, barefoot, tied spread eagle, in chastity CB6000, ESTIM and breath play, as video and pictures.
In addition, you will see me hogtied, in basketball gear with a belt around my chest and breath controlled of course (this was a request after I've published this video). Also available as pictures and video.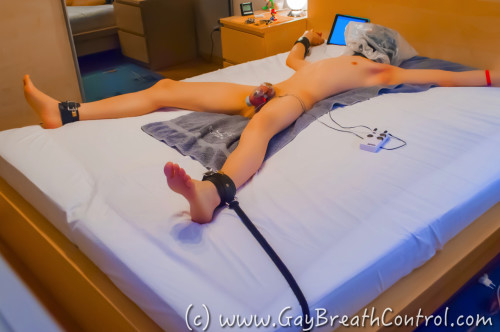 The weekend begins today with a – I hope – highlight …
Emo: Naked, barefoot, Spread Eagle breath controlled
Note
If you like the photos and you want to see all pictures in full resolution for free, and only with the "small" copyright notice in the future, I would be glad about a small Paypal donation. You'll find a donate button on the right side in the navigation. Everyone who makes a bigger donations (more then $10) will get at least a complete otherwise to buying video of my own Xtube videos and the higher your donation, the more videos you get for free.
This is a test mode. If the test went well, in the future all pictures will be published like these (and even the old pictures) and perhaps all videos will be published for free.
Emo: Naked, barefoot, Spread Eagle breath controlled
Description
My master drawn a rubber mask above my head, then he tied me spread eagle to the bed, connected me to ESTIM, pulled a bag above my head and let me squirm.
By the way on Monday the video will be published. 😉
You wanna view the pictures without lines, full colored and smaller watermark? Then have a look to my my Xtube channel EmoBCSMSlave. You will many other picture sets and videos, as you wish.
Preview
And this expect you tomorrow