Hey breathless followers! 🙂
A huge amount of pictures are waiting for you.
I have posted the 5000th post at my Daily Bondage and Chastity Blog on Tumblr this week and I asked you there (and here, but you didn't answer here but there, you did :)) should and when how should I celebrate this 'anniversary'.
You answered that you wanna see me tied up, breath controlled, with electro (ESTIM) to my dick, a chastity and naked. – Oh yes, you wanna see a new chastity challenge.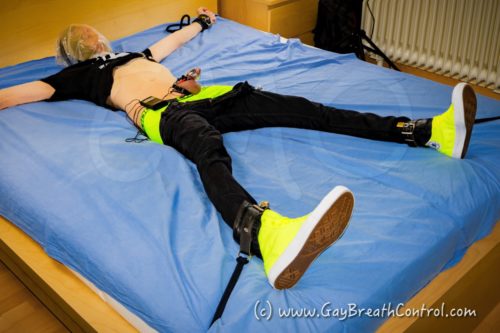 You get what you want. 🙂 My Master and I had a really long session. We took more than 100 pictures. 65 of them will be published in the next few days on GayBreathControl.com.
On my Daily Bondage and Chastity Blog I start a new chastity challenge. Read the rules and find the pics of the challenge here. Every weekend I'll post a summary of als pics of week also at this (my main) blog in a single blog post.
Spread Egale Bound Breath Controlled and ESTIMed EmoBCSMSlave
Okay, now let's start with the first session on the bed.
Note
If you like the photos and you want to see all pictures in full resolution for free, and only with the "small" copyright notice in the future, I would be glad about a small donation via Amazon. You'll find a button on the right side in the navigation. Everyone who makes a bigger donation (more then $10) will get at least a complete otherwise to buying video of my own Xtube videos and the higher your donation, the more videos you get for free. This is a test mode. If the test went well, in the future all pictures will be published like these (and even the old pictures) and perhaps all videos will be published for free.
Spread Egale Bound Breath Controlled and ESTIMed EmoBCSMSlave
DESCRIPTION
I told you the story behind… But this photo set was taken some days before.
My Master tied me spread eagled to the bed and put the breath play masked over my head but this was not enough for him… I closed the maske with a plastic bag. 😈
Oh, don't forget the ESTIM and Cage..
Get in touch with me or follow me via snapchat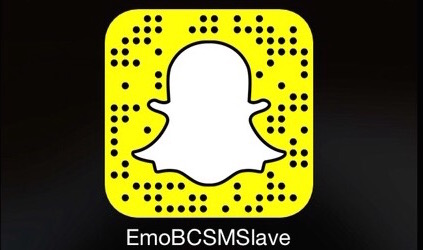 I hope you like the pictures and I am looking forward to feedback, likes and share! 🙂
You wanna view more pictures without lines, full colored and these smaller watermark? Then have a look to my my Xtube channel EmoBCSMSlave. You will find many other picture sets and videos, as you wish.