As you know I've started a a new chastity challenge with an open and new rules (down below) 3 weeks ago. At my "Daily Bondage and Chastity Blog Tumblr blog you can follow my chastity time every day. At 5.05pm EDT, (20:05 UTC ) you'll find new pictures of the chastity day. You can (and should ? ) like and reblog them there.
I also ask you each week (from monday to sunday), which cage should I wear in the coming week. Btw. I'll ask this there and here. ?
At "Gay Bondage and Breath Control" I publish a summary with all the pictures of a week at the end of each week.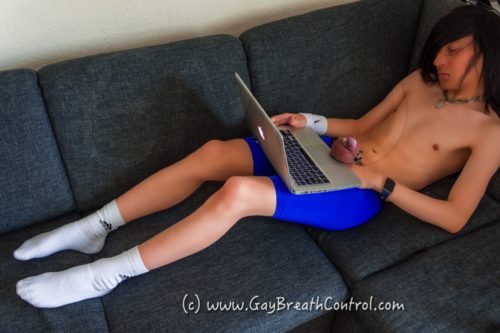 Emo Chastity Challenge 2016 – Summary Week #3
And now let's see what happend in week three.
But before I show you the pictures of week #3 and ask you the question, which cage I should wear for the next week, I'll summarize the rules for this challenge.

THE RULES
I'll post every day a new chastity picture of me at my Tumblr blog "The Daily Bondage and Chastity Blog".
Once a week I'll ask you should I change my chastity device from the CB6000 to a metal cage, or to the Mystim Pubic Enemy No 2 (ESTIM cage) for the coming week and should I cum or not?
This challenge has an open end, but the challenge ends on the day on which the posts (pictures, videos) of the challenge have received during the last 5 days on average less than 20 notice (likes, reblogs) on tumblr.
THE RULES FOR THE SURVEY
It's up to you, to determine which CB I wear next week.
With fewer than 20 votes the chastity device will be determined by my Master and Keyholder. (Survey ends on Sundays at 11.59pm EDT, Monday, 03.59 UTC)
With less than 20 votes after three vote consecutive weeks, it is possible that we cancel the challenge fully, because we have to assume that there is no interest from your side.
So it's up to you to keep me locked. Reblog and like my chastity challenge posts and vote and I'll be locked as long as you do that.
So, now it's time for the throwback of the 2nd week.
Day 13, Monday, May 30th, 2016 – 14 Days since the last cumshot
Day 14, Tuesday, May 31st, 2016
Day 15, Wednesday, June 1st, 2016 – Fulfillment of an user request
Day 16, Thursday, June 2nd, 2016 – Fulfillment of an other user request (Soccer Kits)
Day 17, Friday, June 3rd, 2016 – Fulfillment user request (crisscross applesauce )
Day 18, Saturday, June 4th, 2016
Day 19, Sunday, June 5th, 2016
The new poll
The poll ends June 12th, 2016 at 11.59pm EDT, (Monday, June 6th, 2016 03.59 UTC)