As I wrote in my post yesterday, we've also recorded a video of the session. You can watch the first five minutes of the session here. Rest of it as a premium video on my xTube channel.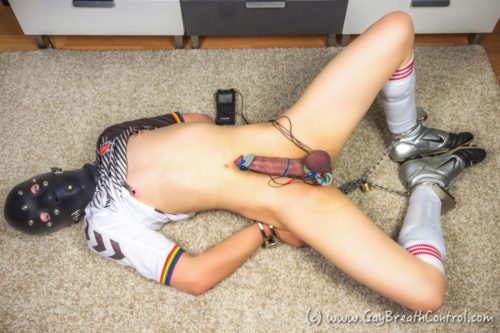 My Master ordered me to wear one of Soccer Kits and the Rubber mask I've to wear, when he's at home.
He hogtied me to the floor with hand-, legcuffs and chains. He let me struggle and play with myself and my chastity. After this he opens the chastity and put an estim device to my cock.
He let me play with the estim and myself. The challenge was not to cum.
But I cum. It was a hugh cumshot (the cumshot isn't shown in the 5 mins. sample, you can watch the cumshot if you watch the premium video. 😉
I'll get what I deserve for the cumshot later. But this will be an other story or video. 😉
Video: EmoBCSMSlave Hogtied and ESTIMed in Soccer GearVIDEO
Jerk Off
As I told you, there is an "addon" for this video on my Justfor.fans channel.
In the "addon" video you can watch me cumming hands free, because I were estimed… Watch the preview here and the complete video on my Justfor.fans channel.
I hope you like what you see! 🙂
Don't forget I promised you, there will still be vids of me that are free and not at my JFF amateur profile. 🙂 You'll find them also at GayBreathControl.com.