It's Q&A time on GayBreathControl.com. I'll answer your questions you asked on "ask me anything".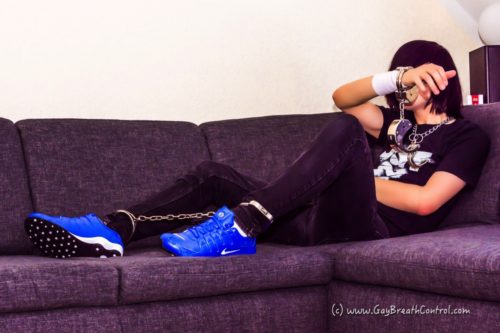 Ask me and request everything you want and I'll answer. 😉
Let's start…
anonymous asked:
Rick, can you lick your master's sneakers/ boots?
Of course I can 😉
anonymous asked:
can you show us the cumsock you talked about last year?
In use or unused?
I mean, you want to see the cumsock while I use it or not?
anonymous asked:
That you have the cumsock on your cock :PPP
I'll show you the cumsock on my cock asap… 🙂
anonymous asked:
I see you're back from your vacation, I hope it was great. I hope you didn't forgot about showing us your cumsock on your cock handsome ??
Thank you, my vacation was great. 🙂
I've keep the sock in my mind.
I think my FAPruary challenge is a splendid opportunity to see the cumsock. ;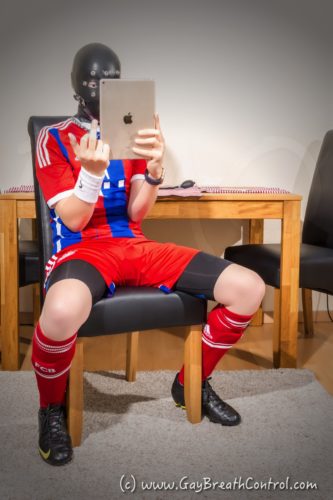 anonymous asked:
where can I meet other guys who are experienced and into BC?
Have a look on Recon.com (int'l fetish gay community), M2MBC.com, TheBreathControlNetwork.com (both are gay BC communities and social networks), or PlanetRomeo.com (int'l gay community) 🙂
anonymous asked:
I like you Chuck's red and blue 🙂 And your adidas too
Thanks! 🙂 I like them too ?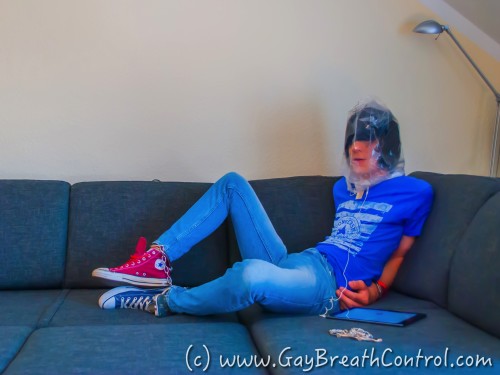 slccast said:
hey 🙂 what black rubber mask you wear in your latest post? Where can I buy it? Thanks for your answer!!!
Hi @slccast​! 🙂
My Master bought the mask at Blackstyle.de.
I'm not sure, but our rubber mask should be a custom made model of "40003 Latex hood, rear zip".
(Our configuration: Black, 1,20 mm latex, Size M
+ Eyes Open
+ Detacheable blindfold With blindfold
+ Nose tubing with lead With nose tubing
+ Mouth Built in inflateable breathe through gag
+ D-rings Without
+ Slave collar Without
+ Zip Standard zip)
It's my absolute favorite rubber mask and rubber shop. 🙂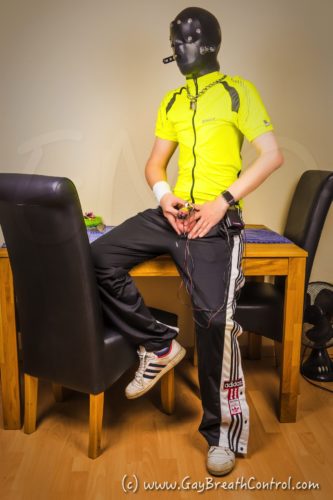 anonymous asked:
Request: how about you in a straight-jacket, hooded and gagged. Naked legs, white socks and it is a video of you begging to cum.
Thank you for your request.
Sounds like a plan.
I like your request. 🙂
We own a straitjacket. It was one my christmas gifts my Master gave to me. 🙂
So yeah, sounds like a plan.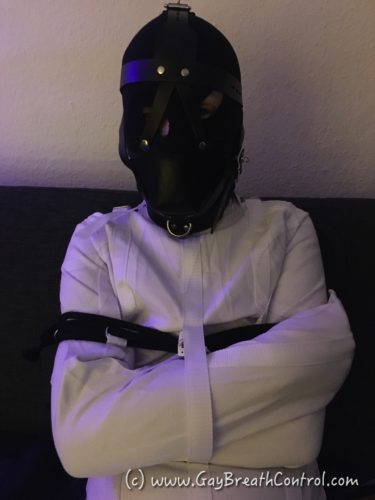 anonymous asked:
Do you like pissing and waterports?
No, I'm not into pissing or watersport.
It's not a "no way" but it's also not one of my favs. Sorry!
anonymous asked:
How about putting emo slave in the segufix wearing just underwear sneakers and socks 🙂
Sounds like a good idea for the FAPruary challenge and the segufix series. 😉
Stay tuned.
anonymous asked:
Hey Rick, you mentioned using a new chastity device (or more have to use ;-). Do you want to elaborate on that? What kind, how does it feel, could you recommend it? Btw the segufix series is really cool. Keep up the work!
I will review my new chastity device, the "NoPacha 3D Evolution" while the current "28 Days – 28 FAPruary Posts" series and compare the cb with the others I had have to wear in past and now.
Among other things I'll talk about the pros and cons of the "NoPacha 3D Evolution" and the other devices.
Incidentally you can help me out.
Ask me anything about the CB. What would you like to know? What interests you most? What is important to you to know?
Thank you, I love our new segufix too. 🙂
What are your questions?
Ask me anything now.