Day 10 of the "28 Days – 28 FAPruary posts" challenge. 🙂
Today I'll review the chastity belts I wear.
We currently have five chastity belts, which I wear alternately daily since November 2016.
Basically, I wear regularly CBs since 2014. Since then, new belts have been bought in addition. Our newest chastity belt is the "NoPacha 3D Evolution", as it is called by our dealer. After I wearing this one in the most recent pictures, you often asked if I can write about it.
That's what I want to make in a short form with all the chastity belts we own.
If you wish, I'll write a detailed review of each one.
28 Days – 28 FAPruary Posts Day 10 – EmoBCSMSlave Chastity Review
The first chastity that I was allowed to use by my Master and partner @SneaksBDSM was a CB6000, followed by a metal chastity belt, the ESTIM Pubic Enemy 2 from Mystim, the Holytrainer and now the NoPacha 3D Evolution.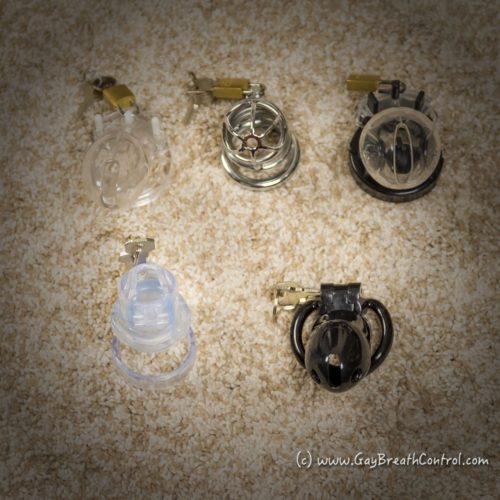 NoPacha 3D Evolution
I would like to start with the "NoPacha 3D Evolution", which we have acquired on MEO.de. However, there also exists replicas at Amazon Europe under the names "RaycityBiosourced" or "Feigu Male Men's Chastity Device".
The NoPacha 3D Evolution is made of ABS, the Amazon cages are made of resin.
Once it has been put on, it wears comfortably, light and safely.
Normally it won't attract negative attention under your clothes.
The lock doesn't hang outside of the CB and doesn't rattle, because it's "integrated" to the belt.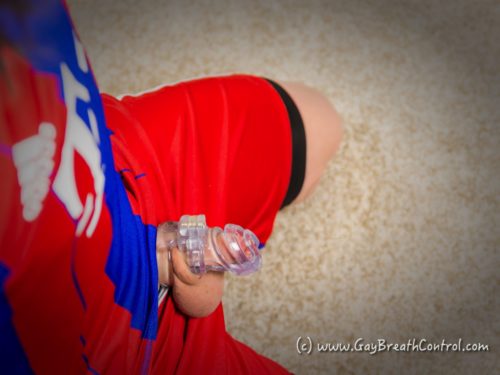 Upsite of NoPacha 3D Evolution is you don't have to remove it to clean your penis. Through its openings you can usually clean your penis (also if you still have your foreskin like I've), I think.
Furthermore, the NoPacha 3D Evolution can also be used when you have a "Prince Albert Piercing" – an extra holder is attached for that.
I don't know how comfortable this combination is, because my penis isn't pierced.
If your master wants to play with electro or stimulate your penis, he can do it easily through the openings.
On the downside, especially first use proves can to be tricky. You can easily squeeze the skin of your penis shaft. Which, however, can still happen if you are a advanced user of the NoPacha 3D Evolution.
Also on the downside, if you choose a too large cock ring, breaking out is very easy – but all other chastity belts have the same problem. More about this fact in the end.
The Holytrainer
The Holytrainer (HT) is already classic.
It is also made of resin. You can wear the HT also unremarkable under your clothes, it's light and comfortable. Like the NoPacha 3D Evolution, the lock is integrated.
Although the HT is more intuitive than the NoPacha 3D Evolution, but you also have to be careful not to squeeze the skin of your penis shaft.
On the downside, you have to take it off in order to clean your penis.
It is also important to pay attention to the correct cock ring size.
The classic one – CB6000
The CB6000 is probably the real classic and I think everyone knows this CB. Ours is made of hard plastic, but there is also a metal one available.
Cleverly attached, the CB6000 doesn't stand out too much under your clothes, but you can't hide it completely.
The comfort of the CB6000 can be described as good.
But as the others one the CB6000 requires a certain skills upon initial use. If you aren't carefully, you could squeeze your skin as well.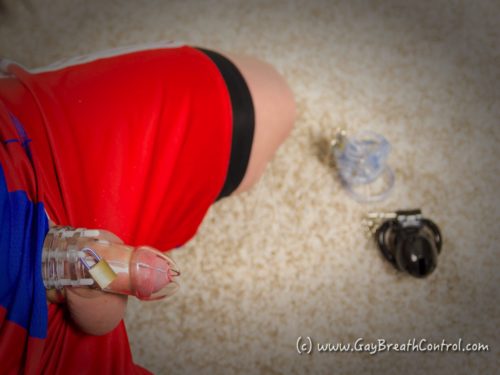 To clean your penis you have to remove the CB6000.
The lock isn't integrated and can "rattle" if you move or walk.
The CB is less escape proof, especially if you chooses the cock ring too big.
The metal cage
It attracts moderate attentions of others if you wearing this one under your daily clothes. You can hide it though.
The metal cage is comfortable and cleaning your penis is easier than with the CB6000 or Holytrainer.
He is heavier than any other CBs and also as the CB6000 the lock is outside and can "rattle" if you move or walk.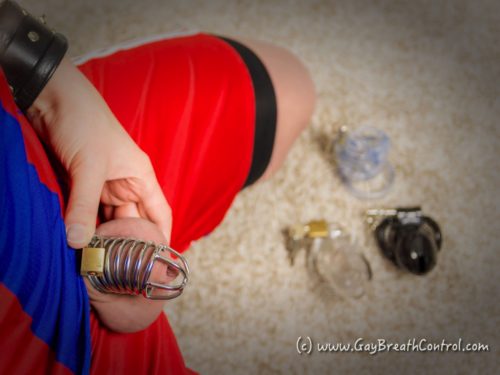 If you're not careful, it squeezes your skin much more painfully.
Furthermore, it may be that these models, if you buy of the low cost versions, can rust.
If this happens, the chastity belt should no longer be worn!
Again, only the right cock ring makes it escape-proof, but not completely safe!
MySTIM Pubic Enemy No 2 ESTIM Chastity Belt (Electro play)
The Pubic Enemy is designed for the special electro play without any doubt.
During a session, you can put this one on easy.
In everyday life it wears rather uncomfortable and takes attentions of others under your clothes.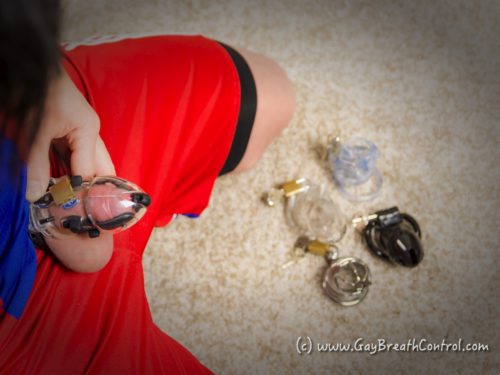 The electrodes are placed well and whoever likes electro play will like the MySTIM chastity.
To clean your penis, the Pubic Enemy have to be removed.
The cock ring is variable and shouldn't be choose too big, but not too small. Attention! If you choose the cock ring setting too small, there is a risk that you break your chastity.
As the CB6000 and the metal cage, the lock is outside.
Escape-proof chastity belts, are they exist?
No one of the "normal" chastity belts you can buy is absolutely escape-proof. If you are well coordinated, you can escape from each and get in again.
A little remedy can be done by not choosing the cock ring too big, because if you choose the ring too big you can get out of the CB easily.
Because of due to the blood flow, the ring may not be too small, otherwise it may cause damages.
Night's rest, or morning erection (morning wood)
Another problem that affects all CBs is that you, when you have the so-called morning wood, the chastity belt awakes you rudely.
It is not the erection as such, it's the cock ring, which usually can hardly move and as a result pulls rudely and painful on your skin, because of sweating in the night and then dried out skin.
To take remedial action: Put a little bit of Vaseline (or some like that) to the ring and skin before to go to sleep, however it can also happen that your skin still dried out.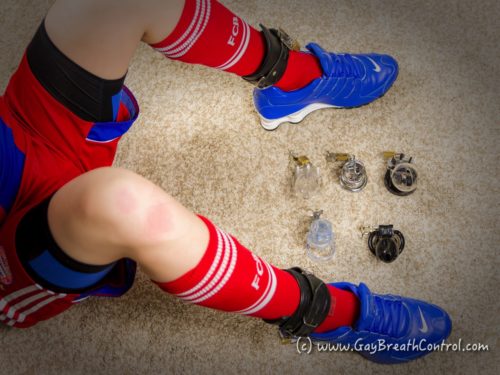 You're a chastity belt manufacturer?
My call to all chastity manufacturers, if you have a product that is 100% unbreakable and also solves the "morning wood" problem, please let me know and send me a copy to test.
I like to test it and write a detailed review.
Get in touch with me or follow me via snapchat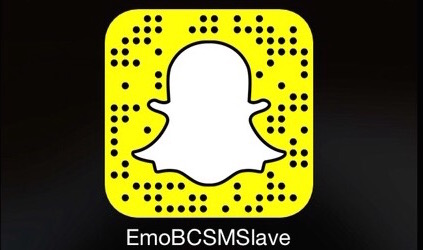 I hope you like the pictures and I am looking forward to feedback, likes and share! 🙂
Note
If you like the photos and you want to see all pictures in full resolution for free, and only with the "small" copyright notice in the future, I would be glad about a small donation via Amazon. You'll find a button on the right side in the navigation. Everyone who makes a bigger donation (more then $10) will get at least a complete otherwise to buying video of my own Xtube videos and the higher your donation, the more videos you get for free. This is a test mode. If the test went well, in the future all pictures will be published like these (and even the old pictures) and perhaps all videos will be published for free.
You wanna view more pictures without lines, full colored and these smaller watermark? Then have a look to my my Xtube channel EmoBCSMSlave. You will find many other picture sets and videos, as you wish.