I'm sure you've already watched my free breathplay video "Basketball EmoBCSMSlave Breath Controlled". But this was not the complete session you've watched. We (my Master @SneaksBDSM and I) recorded 9 additional minutes of breath control and furthermore elctroplay (ESTIM) with our MySTIM Pubic Enemy chastity and a cumshot.
Today I'll present you…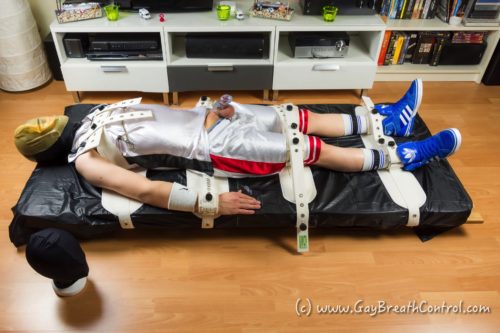 Premium Video: BASKETBALL EMOBCSMSLAVE SEGUFIX ELCTROPLAY CUMSHOT BREATHPLAY
Today I'll present you 30 seconds of my newest 9 mins long premium Xtube video "BASKETBALL EMO SEGUFIX ELCTROPLAY CUMSHOT BREATHPLAY"
In the 2nd part you can watch the handsfree cumshot of "BASKETBALL EMO IN SEGUFIX RESTRAINT". My Master tied me up to our bondage bed with a segufix system. My breath was all time long restricted with a rubber breathplay mask. I'm wearing one of my Baskeball jerseys, my Chastity and blue Adidas HTops. I was allowed to regulate the power of the estim device. He set down when the session ends. Nine breathless minutes are waiting for you.
Unfortunately Xtube no longer allows to embeded previews of premium videos. So I cut 30 seconds out the complete video and uploaded it for you directly to my webspace and blog.
I've you want to watch the complete video, please visit my channel (link to the video).
Don't forget I promised you, there will still be vids of me that are free and not at my JFF amateur profile. 🙂 You'll find them also at GayBreathControl.com.